She was rescued from an abattoir on the night of December 1, 2016. I met her the next day. My friends popped in, on their way to rehome the previous night's rescue hens and we noticed that one of the poor, emaciated, featherless girls was struggling to breathe. She stood in the corner of the car stretching her neck up and out, struggling for each breath. We took her out of the car and gave her some medication. We discussed her options. She couldn't be rehomed like this and we were pretty convinced she would pass away that day as she was just so sick. I took her inside and made her comfortable. If she died, at least she could die in peace in a comfortable bed, that was my thinking.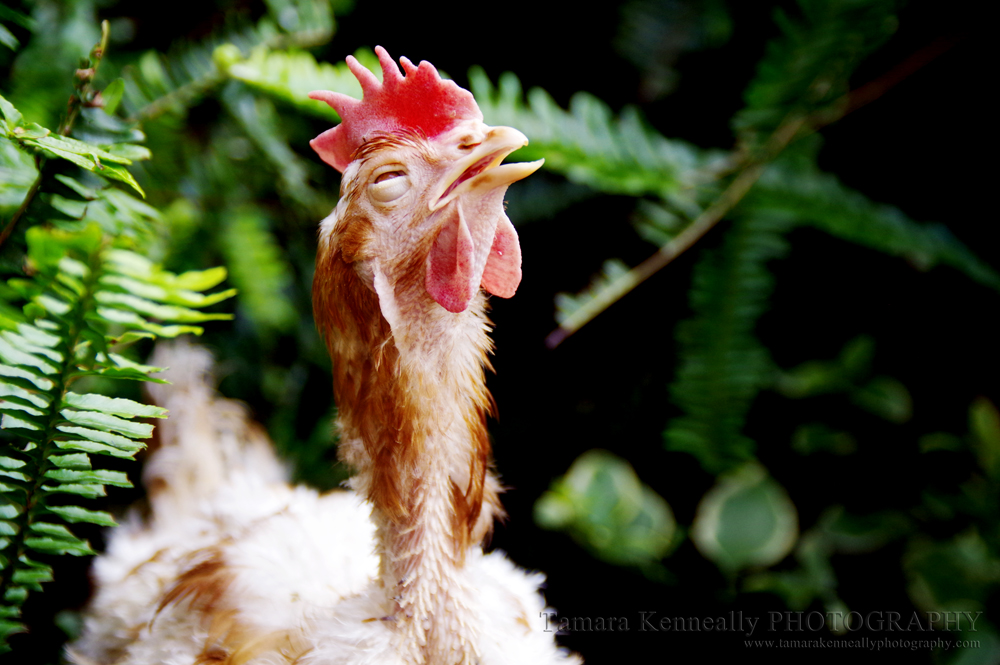 She spent the next few weeks in a crate in my bedroom. She barely ate or drank. She spent all of her energy trying to breathe. All day and all night I listened to her little lungs whistle out and in what breaths she could take. Whistle, whistle, whistle. It's no mystery why I named her "Whistler". Each day I wondered if she'd get through. I'd watch and wait and give support and medications to help her through. She just kept fighting. She just kept taking every breath with all of her energy until one day it got easier. About 3 weeks after her rescue, she started to get better. She decided she'd like to try walking and then she decided she'd like to try running and then all of a sudden, her crate was just too small for her and she demanded more space, so it was time for her to go outside in a quarantine space and it's there that she had her first ever dust bath.








My vet saw Whistler and she said that Whistles had been suffering from Infectious laryngotracheitis (ILT) which is a highly contagious respiratory disease with a mortality rate of 70 percent. When I took her in to the vet clinic she was quite bad and I asked the question "would it be kinder to have her put to sleep?" to which my vet replied with "She's fought this long. Let her live" and we both nodded. She had fought through 18 months in the cage egg farm. She had survived depopulation and arrived at the abattoir and she'd survived a terrible case of ILT. She should be given a chance to keep fighting and she has fought herself to a place where she now runs around all day, she eats oats like there is no tomorrow and she dust bathes every day – just like all chickens should be able to.


Whistler (aka 'Whistles", "The Whistler" or "Whistly") was determined to live. She was determined to see the sky and eat grass. She just wanted to live with her freedom, like they all do.